Investigating links between Agile Working, Personality and Performance
---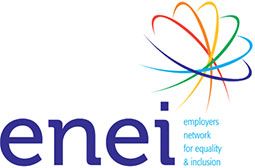 enei
---
The Situation
The Employers Network for Equality and Inclusion (enei) is the UK's leading employer network covering all aspects of equality and inclusion issues in the workplace.
enei have observed that although organisations can become more efficient by reducing costs there may also a benefit in matching workstyles to employees, to find the optimum way of working for each individual.
The Challenge
With sponsorship and from DWF (a major legal firm) and Santander, enei commissioned JEC to research the links between Agile Working styles, personality and productivity to see if different people are more suited to different workstyles and if organisations should use different ways of working to become more productive.
The Solution
JEC reviewed and summarised available surveys, literature and studies on personality and performance.
JEC developed an on-line tool for gathering and correlating information from three questionnaires.
Employees' Ways of Working Questionnaire - and formulated a question set for a web-based questionnaire about employees' workstyles and their perceptions on performance.
Managers' Views Questionnaire - respondents were asked to send a link to request their line managers to comment confidentially on their employees' performance related to their way of working.
Personality Profile Questionnaire - respondents were invited to complete a questionnaire to identify their personality profile using the DiSC® profiling technique that identifies four main personality types.
JEC carried out an extensive analysis of the results and identified significant findings and correlations.
The Results
584 employees and managers from Birmingham City Council, DWF, the Department for Work and Pensions, Ministry of Justice NHS and Santander participated in the survey.
We found differences, as well as commonalities, in both performance and attitudes to Agile Working. Those with an Influential personality profile appeared to have the most challenges, particularly with team working.
The findings and conclusions from the study were published by enei and the report distributed to their member organisations.
A summary paper of the research is published by Work and Place Journal whose editor described it as "a really fantastic and fascinating article".
A summary of the results can be found here.
Call us now on 0333 444 0278
Email us now: Go to quick form
---
---
---